After auditioning final B3 multiple times in the past 2 or 3 years, and liking them of course, I took an opportunity recently and purchased a pair at a very convenient price. Originally released in 2019 and still in full production to date, B3 retail for € 499 in EU.
At-a-glance Card
| | |
| --- | --- |
| PROs | CONs |
| Very realistic tonality, wonderful with acoustic music | Could use some more sub-bass |
| Specialised tuning, ideal for small groups or single players | Not ideal for big bands, large orchestras |
| Extremely good layering / separation | Unextended stage |
| Very good treble compromise | Some might find treble a bit too timid |
| BA pros without succumbing to BA timbre | Cable swap recommended |
| Modest equalisation is well born | |
Important foreword
I feel it's appropriate to extend an informative preamble here, you'll understand why as you read on.
As you might (or might not?) know, the people at final do take a quite scientific approach to acoustics, and to their headphones design in consequence. If you didn't yet, I warmly recommend you to spend a couple of hours (or more) on this article.
Until a few years ago final's strategy line was to develop "in-ear versions" of their flagship D8000 headphones aiming at delivering something as close as possible to the "allrounder" archetipe. Such was, and still is, their E-series.
Later on, final took a different approach: investigating specific musical genres and their listeners' preferences and/or requirements as a basis to develop IEMs focused on each particular situations.
Final A- and B- series are the results of such different strategy.
Final shared some more detail regarding their studies and consequent choices.
First and foremost they put attention on the aspect of "distance perception".
When listening to some musical genres – namely orchestral classical or big band jazz – more than others spatiality is key. Thinking to the "real thing" (the orchestra in the theatre) you expect, and therefore you want , to "feel" their music "in a big room", and perceive the different distance the various instruments or instrument grups are placed at from your seat, and from each other.
Oppositely, when one listens to hard rock, pop, or even small-group jazz (think to a trio in a smokey canteen) widespread 3D spacing is not important as indeed it does not correspond to "the real thing". In such situation you indeed expect a group of voices playing physically close to one another, and what you want is not hearing them artificially scattered here or there, rather you want them to be rendered "sonically well separated" from one another.
When at a live venue of a small group you do in facts always discern the guitar from the bass and the voice even if they are all standing on a stage less than 10 square meters – such discernment capability is instead too often "lost in translation" while we listen to corresponding audio tracks.
Another key element that final focused on is what techies call the sound's "dynamic range".
Vulgarly translated, think to dynamic range as the number of distinguishable shades of a certain physical quantity. A box with 12 colored pencils from dark red to black is an example of a much tighter dynamic range compared to a big box of 144 Caran d'Ache, still going from dark red to same black.
Ported onto audio terms, a wider dynamic range sound is what you want to appreciate all the most minute variations Maria Callas was able to issue while warbling, or Uto Ughi can deliver from a Guarnieri del Gesù.
Oddly enough, in some cases a wider dynamic range is less desireable. Using only 12 colored pencils, in facts, it is much easier to tell a red from an orange, even if they are drawn one adjacent to the other, for the simple reason that there is apriori only "one" red and "one" orange in your palette, not a dozen different intermediate nuances of each.
When you have "a lot of space" in between two color (or sounds) spots, one blue the other red, you can have each reproduced with more subtle nuances. Oppositely if the two spots are closer to one another, or even overlapping each other, your first priority is to avoid they mix into a violet!
Thinking in these terms, orchestral music, or anyhow music composed of many "voices", be them acoustic or electronic, coming from multiple, spread-out physical positions will better require higher space reconstruction and dynamic range capabilities.
Oppositely, music generated by very few instruments/voices/sources playing shoulder-to-shoulder will rather want all voices to be "more or less in the same spot", and that's when the highest available proweness in rendering them clearly distinct from one another becomes crucial.
The B series has been developed exactly thinking to such last mentioned applicative scenario: small groups acting on physically small stages, with overlapping sounds and voices – calling for relatively lesser need for "spatial amplitude" in exchange for much higher sonic separation capabilities.
This graph taken from final's web site is at this point quite readable.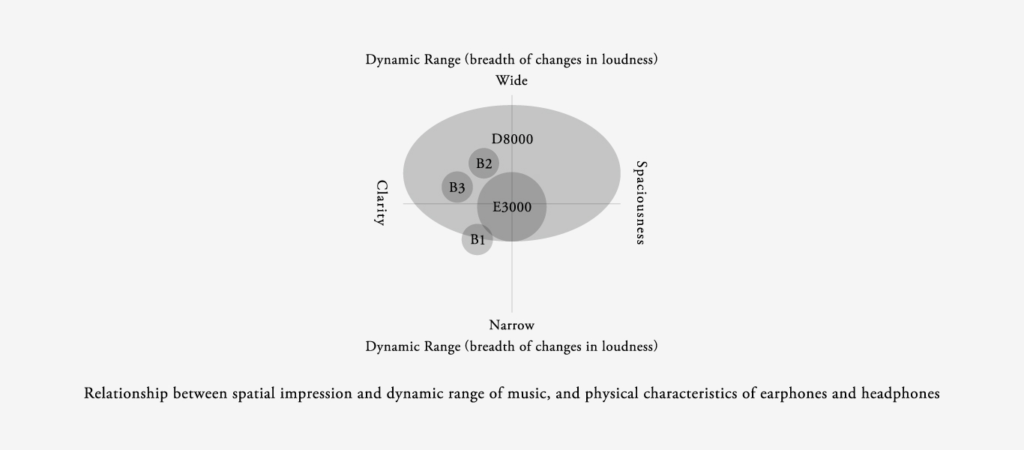 The term "Clarity" in this case is used in the sense of "being able to tell different sounds apart from one another".
For completeness: the opposite scenario is the typical big orchestral setup, involving many voices positioned on a quite (or very!) sizeable physical stage. In such case priority #1 is rendering the amplitude of the original, real scene. Technically, translates into micro-managing sound timing, and rendering distant sounds as clean and articulated as close ones. That is final A-series ballpark, instead.
At the end of this lengthy preamble, I hope I made its very reason obvious: don't blame your Fiat Panda turtle speed and deafening noise if your purpose is covering 50.000 KM/year on motorways, nor criticise your BMW 530 if costs your a pretty penny of gas in the messy downtown traffic.
Full Device Card
Test setup
Sony NW-A55 mrWalkman / Questyle QP1R / Questyle M15 / E1DA 9038SG3 / Questyle CMA-400i – Stock Final E tips – Dunu DUW-02S silver plated cable – lossless 16-24/44.1-192 FLAC and DSD 64/128/256 tracks.
Signature analysis
Tonality
B3 are just a bit on the bright side of neutral, with a presentation I would call roughly W-shaped. The timbre is very interesting: notes are clear and bodied, detailed and meaty – not simply "analogue", rather "organically lifelike". Veeery different from what's commonly called "BA timbre".
Sub-Bass
Sub-bass reflects the inherent limitations of BA drivers: its extreme end is in facts modestly rolled off. Not a big deal for my tastes: standup bass rumble is there anyhow. I can make it a bit more evident with some light EQing, which B3 bear with a certain tranquillity.
Mid Bass
Mid bass is very good but before that it's… surprising. The BA driver reserverd to B3's mid and low frequencies yields solid body and relaxed-calibrated transients, delivering still fast and punchy yet – very uncommonly for a BA – textured, flowery and meaty notes. For my personal taste B3's midbass is at times even a tad too "imperative" – first time I hear such situation on a BA driver. Again, this can be easily corrected by some light EQing.
Mids
Mids are just spectactular: moderately forward, bodied, textured, articulated. Acoustic piano, guitar and tenor sax benefit most from this tuning.
Male Vocals
Baritones on B3 sound natural if just a whiff too much bodied to come across as "totally" realistic. Tenors are better in this sense: less "flowery" then baritones while still very much organic.
Female Vocals
Opposite to the male case, female voices are very good and cured, yet a purist might say they could use a bit more butter. And that's true, in a sense, but in such case the rest of the tones "around" the soprano would have to be adapted too, to avoid losing coherence.
Highs
One of the two BA drivers is exclusively dedicated to this segment, with the quite obvious target of delivering an engaging and detailed experience while staying rigorously south of excesses. And boy did they succeed! A very good compromise has been reached here between note body and fine granularity, livelyness and unoffensiveness.
Technicalities
Soundstage
Unsurprisingly considering their apriori design choices, B3's soundstage is not more than average for it price class. It is however, if modestly, extended in all directions including some depth. Caveat: stage size also depends on fit – deeper push-in = narrower scene, as always.
Imaging
All instruments are well cut-out from the ensemble – for how closed-in may it be – and realistically cast on the scene with good body, to a very organic result.
Details
Detail retrieval is very good on B3, however you shouldn't expect a "detail monster" effect, whereby details are thrown at you as "the first thing you hear". It's indeed the other way around here: on the frontline you hear main-bodied notes, while back layers bring you the details that complement the sound richness.
That's very likely the consequence of the precise tuning choices operated in particular on the trebles, where as I mentioned above an evident succeeded effort has been applied to delivered the highest possible energy while never scanting into excess and fatigue.
Instrument separation
Layering and instrument separation is arguably where B3 deliver their best. Capitalising on their timbre clarity, on the accuracy of their tonal calibration, and – why not – on particular driving hardware features, they deliver a really uncommon separation quality. If their design purpose was to render small, closed-in groups with the maximum single-voice definition, they no doubt hit the bullseye here.
Driveability
It's not so easy to drive the B3 due to quite modest sensitivity (102dB/mw). Nothing as hard as a nasty planar however – a modestly amplified source is basically enough.
Physicals
Build
Housings are produced by Metal Injection Moulding, a process involving mixing steel powder with another element to form a resin which is then moulded at high temperature into the desired shape. The result is solid and sturdy, and aesthetically very pleasing at least for my tastes.
Fit
A 3-contact-point fit between the housing and the outer ear has been designed by final aiming at the best compromise between wearing firmness and light stress accumulation over time.
The design idea is quite brilliant to be honest, the rationale being: you need (just) 3 grip points to obtain stability. One is the eartip umbrella, inside the canal. Another one is the housing's short front side vs the tragus.
And the third can be any one of the possible 4 contact spots between the housing's shaped back side and the concha – depending on one's ear particular shape that of course will happen on one or another position. I would say that for my experience it works as intended.
What I just find sub-ideal is the nozzle length which is a tad too short and makes tip selection pickier than it should. In my case the working trick luckily "just" stays in choosing a bigger size for my left ear: that gets me a firm grip and seal even if the tip stops "just in" the canal, relieving the need to push the housings too much into my left concha.
Comfort
B3's particular housings size, their 3-point-fit design, and their external finish all contribute to a good comfort once I found my right "personal" position.
Isolation
Passive isolation is quite nice once B3 are properly fitted, but not more than that as the housings are not designed to "fill up" the concha, which would of course block more of the leak.
Cable
Stock cable is Final C106, a Junkosha silver plated copper with fixed 3.5 termination – it's the same cable bundled as stock on A8000 and E5000. I recently focused how sonically limited such cable is – it's at best on par with some quite cheap chifi alternatives, with the bad difference of it retailing for like 200$ when purchased alone.
In addition to that no modular termination plugs are available, so pairing B3 to a balanced source requires swapping it anyhow. To this day in 2023, and for packages like B3 starting to cost around 500$ list, I think final could do better.
After some cable rolling for my experience better stay on silver plated – pure copper "combs" B3's trebles a bit too much – so I find Dunu DUW-02S an adequate quality option for B3. Compared to stock layering and note contouring get obviously better, and bass is better defined, less flowery.
Specifications (declared)
| | |
| --- | --- |
| Housing | Stainless steel injection moulded housings |
| Driver(s) | 2 balanced architecture drivers – one for trebles, one for bass and mids. No crossover filter used. |
| Connector | MMCX |
| Cable | Junkosha high purity OFC silver plated cable with 3.5 termination |
| Sensitivity | 102 dB/mW |
| Impedance | 19 Ω |
| Frequency Range | n/d |
| Package & accessories | High quality silicon carry case, E-series black eartips (full series of 5 sizes), removable silicone earhooks |
| MSRP at this post time | € 499 (EU official) |
Comparisons
I'll list a few comparisons down here, trying to be (for once) quite succint while hopefully informative enough
final B1 (€699 EU list)
Insofar as another member of the B-series, B1 follows the same apriori musical pairing indications as B3. Featuring a Dynamic driver in the mid & low frequencis in lieu of B3's BA driver, B1's timbre is full and lush, tonality is obviously warm and V-shaped, their bass is viscerally deep and authoritative (even too much), mids are more recessed, and trebles are relaxed. If B3 pleases those like me longing for organic, unadultered acoustic renditions, B1 obviously caters to people liking bass-colored, energetic playbacks. B1 is also very tricky to drive, requiring much more current than most portable sources are able to deliver, and when underbiased they sound dark and quite ugly (E5000, anyone?).
To me F7200 are [even more] specialised drivers, particularly dedicated to vocal performances like songwriters singers etc. Pretty much the single best driver I ever heard on that application. B3 offer more bodied, natural and more extended bass, and a bit better trebles.
Intime Miyabi (JPY 21000 + import costs)
Miyabi offer a more "classical-all-rounder" presentation with stronger bass personality, and those unique piezo-trebles-without-piezo-timbre. A close call on layering and separation with the edge probably in Miyabi's favour, if not by much. Mids are better on B3, which also deliver "silkier" notes all over the spectrum, but cost twice as much.
final A5000 (€ 299 EU list)
As I tried to outline in the foreword up above, A-series stems from a polar-opposite design intention (rendering big bands instead of small groups) – no wonder then how B3 and A5000 sound different like day and night. A5000 draws a much wider space, and cast instruments all over it with a lot of clean air in-between one another. Notes are dryer on A5000 all accross the spectrum, its timbre is leaner, detail retrieval is "more upfront". High mids and trebles may be "hot" for some on A5000, which do react very positively to EQ however. TL;DR: A5000 and B3 are fundamentally "complementary".
IT04, too, feature particular proweness on layering / separation, and prefer casting a more intimate scene with band elements imaged as more closed-in to one another. A very good job was done on IT04 bringing the 3 BA driver's tonality close to their DD one, which however deprives IT04 of that little % of "treble life" which is there on B3 instead. IT04 has an open-V shape, warm-ish presentation in lieu of B3's more W-shaped, bright-neutral one.
OH500 offer a U-shaped, warmer presentation compared to B3. Both ends (bass and treble) are more evident on OH500. Layering, separation and detail retrieval are better on B3, more so in the low end. OH500 are (even) pickier to drive then B3.
Dunu EST112 (€ 489,00)
EST112 has slower and fuzzier (bur more visceral) bass, not as full vocals and a bit more tamed trebles (which are in my books EST112 Achille's heel tbh) compare to B3. Stage casting is a bit wider on EST112, layering is better on B3.
Considerations & conclusions
B3's main cyphre is realism. When applied to the music they were designed for they gift their owner a stunning sense of physical presence on the scene. Instruments and players are cast near you such that you can almost reach out and touch them.
Even more importantly, B3 deliver a note discernment capability over the music being played which gets surprisingly close to that of your own ears when you are sitting in the front lines of a live venue. All of this paired with a deliciously organic timbre on a bright-neutral tonality.
As my eighteen readers know I am not a collector. Life is too short, and I have too little free time to spend any of that on second-best options, when I am lucky enough to have more than one availalble. B3 are part of my (very) short best-option list.
This article originally appeared on audioreviews.org, here.
P.S. – for the record: as any truly affectionated user knows spelling, "final Co., Ltd." lowercase ("final") is not a typo 🙂