It's with great interest that I received a sample of Ikko's latest OH5 "Asgard" model, considering the very high consideration I have for the other 2 models I assessed in the past, being OH10 (read here) and OH1S (read here).
OH5 can be bought from Ikko's website for approx $495 before promos. There's a nice giveaway promo going on right now, and I have been hinted that a xmas promo is also coming up so stay tuned on their website in the coming days 😉
At-a-glance Card
| | |
| --- | --- |
| PROs | CONs |
| Enjoyable, addictive balanced tonality, and timbre. | Lack of resolving power, detail retrieval and layering. |
| Good mids, male vocals in particular. | Timid sub bass. |
| Engaging trebles. | Limited spatial drawing abilities. |
| Good cable. | Somewhat dampened midbass timbre. |
| Good fit and comfort. | Some may find trebles a bit hot. |
| Outstanding package and premium accessories bundle. | Stock silicon tips tend to slide off housing nozzles. |
| | Third party tip rolling strongly recommended. |
| | Debateable price point choice. |
Full Device Card
Test setup
Sources: Apogee Groove / Sony NW-A55 mrWalkman / Questyle QP1R / E1DA 9038SG3 / Questyle M15 – Radius Deepmount tips – Stock cable – lossless 16-24/44.1-192 FLAC tracks.
Signature analysis
Tonality
OH5's tonality is warm-balanced, and the timbre is bodied and polished.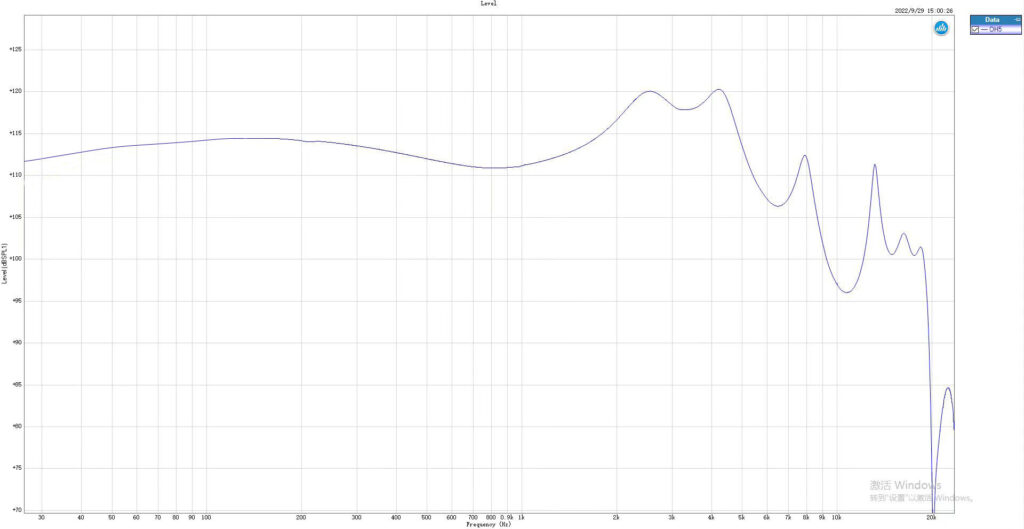 Sub-Bass
Sub bass is there but doesnt shine enough. Looking at the graph it does not seem too much rolled off but from actual audition you can check that rumble may use some help to be more evident, and this also impacts negatively on spatial drawing of course. Mid bass elevation tends to cover it, too.
Mid Bass
OH5 have an evidently enhanced mid bass which is key to their global tonality in a positive sense on one hand, but paired to somehow "dampened" transients it also contributes to limitating overall resolving power.
Mids
OH5 mids are very well positioned in terms or relative relation with bass and trebles – not forward, not recessed – to the general purpose of obtaining a globally balanced, horizontally-calibrated presentation (much more so than the graph seems to say). Their tonality is very well "centered". Highmids ramp up quite rapidly and deliver quite some energy, thus sometimes (although rarely) resulting in some minor inconsistency with the mid and lower ones. Those overly sensitive to 3KHz might be a bit "touched" on some tracks (I'm not in that category, rather the other way around), yet I cound't hear sibilance which is great of course.
Male Vocals
Vocals on OH5 are good, with particular regards to male vocals. While midbass sometimes gets too close (and does sometimes overlap baritones) they come across very organic, especially on tenor registers.
Female Vocals
Female vocals are also good. A clear preference has been given to energy vs smoothness here. Purists of flutey sopranos may not consider OH5 as top of the block – but apart from that this is another spot where a good job has been made on the OH5.
Highs
OH5's treble is nice, somewhat airy, and most of all energetic, sparkly while also staying combed, smooth though, so they are in the end not offensive while still staying engaging. The 4.5KHz peak gets hot at times, and depending on eartips selection and/or personal preference/sensibility it may want to be tamed by surgical equing. Other then that, a nice job was done here.
Technicalities
Soundstage
OH5 draw an average sized stage, with a decent width, some height but very limited depth.
Imaging
Macro dynamics (imaging) is good, although primarily in the sense of stereo separation given their flat-ish spatial rendering capabilities. Central panned instruments and/or mono tracks, suffer from OH5's limitation in terms of layering/separation.
Details
Detail retrieval, like instrument separation, is dramatically sub-average for this price class. It's quite evident that the entire tuners' effort has been concentrated on delivering tonal pleasantness and a specific musicality tone, sacrificing resolution and analithical skills.
Instrument separation
Layering and instrument separation are the other major Achille's heels of OH5, together with detail retrieval as previously noted. There's little chance to appreciate various voices' / instruments' nuances in their singular identities even on acoustic, well mastered, uncompressed tracks.
Driveability
It's not difficult to drive OH5 as their sensitivity is relevant, and their impedance is on a level where many amps deliver their best current, or near that. A decent phone should be enough, and surely not particularly powerful sources will be.
Physicals
Build
Housings offer a convincing impression of solidity, and sport a very pleasing design style.
Fit
In my case OH5's shape and size are the right shape and size to fit my concha without difficulty, filling it up almost completely. The nozzles are not very long so long stem tips are in order for me as pushing the housings in beyond a certain point is a no go. In the end I settled for Radius Deepmount.
Comfort
As long as I adopt long stemmed tips, OH5 are very comfy for me once fit. Their weight is also "right" (not too light to "disappear", not to heavy). They'd become unbearable however if equipped with short stemmed tips, as their housings would hit my antitragus (this is a common issue I have with similar shaped housings e.g. Final A and B series, Tanchjim Oxygen, etc especially on my left ear)
Isolation
As housings do fill my conchas quite well, some level of passive isolation is achieved in my case.
Cable
I found stock cable is quite nice. In addition to good sonic behaviour and very nice haptics, it comes with a modular plug system and 3 termination plugs included in the package (3.5, 2.5 and 4.4). Modular plugs miss a lock-in mechanism but they seem quite firm in position anyway so all OK on that front too.
After further experience with cables etc I must amend as follows. Stock cable is OK from the construction quality standpoint. In terms of sonic pairing it clearly contributes to OH5's general "more musical than technical" presentation. After rotating lowend and less-lowend cables, I can for example say that pairing a Dunu DUW-02S impacts quite evidently in terms of snappier transients, wider stage, better note contour and layering.
Specifications (declared)
| | |
| --- | --- |
| Housing | Aerospace-Grade TItanium & Resin cavities |
| Driver(s) | Lithium-Magnesium Diaphragm Dynamic Driver |
| Connector | 2pin 0.78mm |
| Cable | High quality silver-plated monocrystalline copper cable with interchangeable termination plugs, supplied with 3.5, 2.5 and 4.4 terminations |
| Sensitivity | 112 dB |
| Impedance | 32 Ω |
| Frequency Range | 20-40000Hz |
| Package and accessories | Leather carry case, leather-strap keyring, metal pin, 1 set (S/M/L) oval foam tips, 1 set (S/M/L) oval wide bore silicon tips, 1 set (S/M/L) round foam tips, 1 set (S/M/L) round smaller bore silicon tips. |
| MSRP at this post time | $ 489 |
Considerations and hints
What positively hits you about OH5 is its musicality. Somehow the tuners managed to reach a particular tonal balance, adding a quite personal color to the music being played, and such color is indeed pleasing. The sound coming from OH5 is bodied, vibrant, warm and enveloping. It's energetic but also rounded off, smooth – there's no sharp edge, no rigid brick wall, and no floppy surface either.
You got to love OH5's particular color to appreciate that, of course, which might not happen to you. If you do like its timbre, however, chances are you might develop a particular affection for OH5.
On the flip side, I find OH5 compromise quite dramatically on key technicalities, first of all layering and instrument separation. I am no EQ guru, so I couldn't (and I wouldn't) find out inhowmuch the situation is due to aposteriori tuning or to the driver's specific nature. What I did is play with Roon's PEQ and after some fiddling I could devine some touch-ups wich make the situation a bit better (for my tastes of course)
Low shelf    55Hz  4dB   0.71
Peak        150Hz -3dB   0.5
Peak        950Hz  1.3dB 1
Peak       4500Hz -2dB   2
The 150Hz demotion helps making midbass much more polite and somewhat faster. The low shelf adds some missing "rumble tail" to bass notes. The 950Hz (or thereabout) pushup also helps de-dampening midbass and lowmids and the 4.5K dip takes some hotness away from metal notes.
All those figures are not carved in stone, take them as ballpark values, but if you try you will hear instrument separation and clarity improving, a more detailed bass, and a quite evident opening on stage drawing especially in the depth direction. Play with values to learn how sensible each one is to the final result.
An alternative possible intervention is adopting TRI Clarion eartips. In such case the pushdown on 150Hz or thereabout is not needed anymore, however a more generous dampening intervention gets required on the highmids – I would add a -2dB or so to 3Khz for example, in that case.
Lastly: some care is in order about ideal source pairings. OH5 do not welcome bass-strong sources too much. Questyle M15 or QP1R, and E1DA 9038xx dongles all OK. Groove on the other hand excites OH5's "artistic" midbass too much, yielding a too dark result, thus not even being able to help OH5 on adding space depth which is amongst Groove's specialties in general.
Comparisons
Final E4000 ($149)
The epitome of IEMs featuring strong musical personality (color) which grew on me since the day I got them and won't ever leave me, even now that I have technically better alternatives, are Final E4000. And guess what: E4000 and OH5's personal "voicings" offer quote a few common points.
Both are warm, smooth, musically "pop" and deliver a very particular balance between smoothness and strenght, energy and pampering. Compared to OH5, E4000 are… more japanese: silkier, a bit (even) more elegant in a sense. OH5 feel more energetic – in a good sense.
OH5 are braver on the trebles compared to E4000, even at the cost of minorly overdoing sometimes. E4000 on the other hand are very good at layering and separation, where OH5 is dramatically lacking, especially on the mid and low segments.
E4000 are much more demanding in terms of source power, and they have the not secondary advantage of costing one third of what OH5 do.
Isabellae's musical personality is evidently different from OH5's insofar as they deliver a V shape presentation, with relatively recessed mids and important, enhanced sub bass and bass (for the connoisseurs: something more in the ballpark of Ikko's other model, the OH10). This alone of course already imprints a big part of the comparison between the two products.
Beyond that, Isabellae's high mids are smoother, and trebles are less energetic, yet airier compared to OH5. Mid bass is definitely more textured and detailed on Isabellae, while still staying on the relaxed and buttery side in general. Sub bass is OK out of the box on Isabellae while it requires some help on OH5. Most of all, layering, resolution and detail retrieval is obvisouly better on Isabellae, which are also equivalently undemanding in terms of source power as OH5 are.
Zen's bass is arguably as good as the industry gets at least until pulling Softears stuff to the comparison table: perfectly calibrated mix of punchyness and body, volume and texture. ZEN also has beyond outstandind microdynamics and layering capabilities – on both fronts, that's very much unlike what happens on OH5. On the opposite end, trebles are marginally but perceivably airier on OH5, although highmid sensitives as previously noted my consider that segment on the limit or even a bit beyond their preference. Taken as a whole, OH5 have a stronger musical personality (love or hate, of course), ZEN are more "technical", and 40%+ more expensive. I'm referring to original ZEN model, not the subsequent Pro version (which I find less nice then its sibling).
Conclusions
OH5 are a nicely and coherently colored set. As such, they can be target of "unquenchable hatred and indomitable love" – like that other well known invididual from some 200 years ago, you know – depending on one's own ego. Simply put, if you are the uncurably curious audiophile addict you may want to check these, knowing chances are you might viscerally love them, or find them as being "not your cup of tea". I hope my article did convey at least some hints to educate your guess before you actually carry that out.
In summary OH5 deliver a bodied, vibrant, warm and enveloping musical experience. They are energetic while also smoothed. An evident accurate job has been carried out behind the curtains here to get to such point.
Their major downside is on resolving power and layering proweness, which can be helped a bit albeit not solved – without revolutionising the entire presentation – by means of some surgical EQ as I also tried to hint you about, here above.
The OH5 sample covered in this article has been delivered to me courtesy of Ikko staff which I warmly thank once again for the opportunity.
This article originally appeared on audioreviews.org