My readers know that unlike what happens to so many other amateur audiophiles my quest for better audio gear is not apriori orientated towards current or future releases, indeed encompassing whatever "sounds" good – be that a just-released novelty or a legacy device is irrelevant to me.
Amongst the best drivers in my collection there's surely Final's F7200 – their F-series flagship model. Originally released in 2016, I'm not sure if it's completely discontinued by the manufacturer yet. Its MSRP used to be ¥ 50730,00 (which is today's € 360,00 give or take). This piece will try to convey why these babies have little chance to be phased off my arsenal.
At-a-glance Card
| | |
| --- | --- |
| PROs | CONs |
| One of the cleanest, most organic and lifelike acoustic timbres I ever encountered. | Infuriatingly capricious about tips pairing and precise insertion calibration (3rd party tips required). |
| Technical, detailed, clean acoustic bass. | Sub-bass rolled off at the extreme end. |
| Beyond delicious mids and realistic, stunning vocals. | Some courage missing on top trebles. |
| Dynamic and pleasant trebles. | High quality amp required. |
| Good technicalities. | |
Full Device Card
Test setup
Sources: Sony NW-A55 mrWalkman / Questyle QP1R / Questyle M15 / E1DA 9038SG3 and 9038D – Spinfit CP-100+ tips – Stock Junkosha high purity OFC silver plated cable – lossless 16-24/44.1-192 FLAC tracks.
Signature analysis
Tonality
F7200 timbre is clean, clear and organic, natural, with a sort of "lifelike" taste. That, alone, is arguably worth the entire pricetag. Tonality is eminently neutral, with a centric accent.
Sub-Bass
Bass is fully extended, but the very last portion is rolled off. The rumble generated by drums and acoustic + electrical bass come out as foundation, but only as such
Mid Bass
Midbass is eminently organic, and adorably technical. The oomph is purposefully kept to the minimum necessary to deliver solid and unfailing bass presence, while staying sure kickdrum never haloes off.
Mids
F7200 mids are no doubt the star of the show, along with the delicious organic timbre. Highmids are evidently tamed down, and when tips are not selected properly they almost disappear from the presentation; viceversa they play a very calibrated, positive role when tips and insertion are optimised. There seems to be no way in earth to get highmids to glare, or deliver sibilance. Wind and brass instruments are rendered very, very well.
Male Vocals
Male vocals are in near-perfect territory, at least for my taste. They are wonderfully organic, clean, textured and baritones are never artificially cavernous.
Female Vocals
Female vocals being for their large part in highmids territory resent of F7200 fit sentitivity: choose the wrong tips and/or insertion, and ladies, and particularly sopranoes, will sound lean, lifeless, undetailed. Get the fit equation solved and you'll hear great female vocals, again (like males) extremely organic and natural. They might do with a 5% more of "butter", but I'm probably nitpicking.
Highs
Although trebles can surely be called "quite transparent and airy", the Brilliance section is definitely kept at bay here. So trebles are "just airy", not "superbly airy". Cymbals and (high) strings are ok, although they do lack their "thinnest sparks" so to say.
Technicalities
Soundstage
F7200 soundstage is significantly sized, especially in the sense of height and width, depth is just a bit shorter. Changes depending on insertion level (the deeper the fit, the more intimate the stage).
Imaging
Imaging is greatly executed: intruments are coherently and credibly cast onto the available space, and there is significant quantity of clean air in between them.
Details
Microdetail digging is better in the bass than in the highmids and trebles, where it's "good" (as it needs to be considering the product price) but not more. I reckon F7200 discount the tuners' choice to stay conservative in the High Mids and Brilliance here.
Instrument separation
Separation / layering is probably the single F7200 aspect which is mostly impacted by physical positioning and eartip choice. Once that's optimised, voices and front/back instruments are always intelligible from one another, seriously busy passages included. Microdynamics are also very good when the right tips are selected, while they get dramatically cut off when choosing the wrong ones.
Driveability
In spite of the nominally not particularly low, F7200 are actually quite power hungry for one, and very sensible to amping quality for another. Don't dream to pair them with a phone or a lowend dap as this would only result in a much lesser pleasant output than what they actually can deliver
Physicals
Build
F7200 housings are full metal "bullet" shaped, and carry a wonderful mirror finish. Aesthetically they are even more beautiful than E5000 and I guess that's quite something to state. Their shape is evidently designed to invite the user to insert them deep in the ear canal: their diameter is just 5.5mm and they weigh like 2g.
Fit
F7200 are amongst the most fit-problematic IEMs I ever came accross.
As previously mentioned, they are designed to facilitate a (relatively) deep insertion into the ear canal. Bringing the nozzles closer to the eardrum offers solid bass, superb clarity and even smoother trebles – on the flip side soundstage gets a bit more intimate.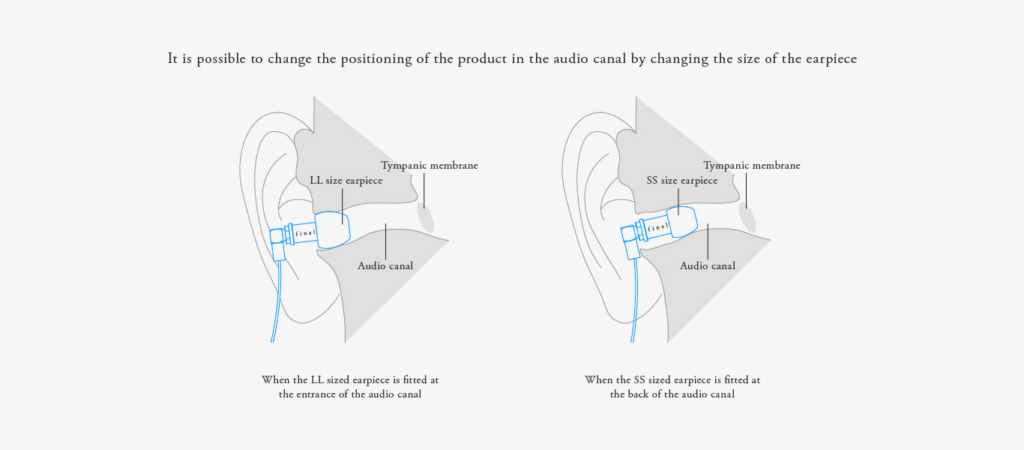 Reading it seems "easy enough", and even easier looking at the above picture, but finding the exact sweetspot in each one's ear does take some trial and patience.
And such patience is nothing compared to the how much you need to overcome eartips selection hassle…
Final Audio is known to pay maniac attention to perfectly fitting accessories, but I must say that on F7200 they dramatically failed: the bundled Type-E eartips are simply… unfit for F7200 – for the simple reason that their stem's diameter is too large to properly "grip" onto the nozzles.
While Type-E stems are not "oversized" enough to skip off when pulling the drivers out of your ears (at least that…), they are indeed a tad too large to effectively counter the insertion force the user applies when pushing the housings into the canal, this very often, read always, resulting in the actual nozzles coming exposed out of the eartips' bore, which of course ends up distorting/decalibrating the entire presentation.
A pair of transparent "plastic barrels" (they call them "Safe Fit Rings") are supplied with F7200, which are supposed to avoid exactly that: put them onto the housings before fitting the tips, and they will "stop cap" the tips from sliding too much down the housing's body if need be.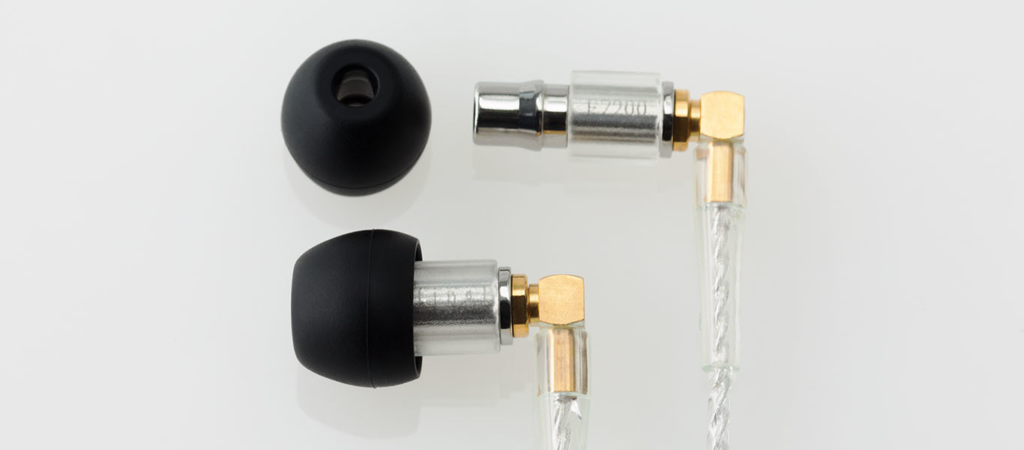 Brilliant. Too bad that such Safe Fit Rings are too short to effectively prevent the mishap when applied to… the very Type-E tips!! So on with a loooong tip rolling session then.
End result: Comply TSX-500 foams work OK, and Spinfit CP-100+ also work marvelously well.
Comfort
F7200 are bullet shaped IEMs and this thing alone is not felt comfortable by some people. I'm in the opposite group – I find bullet shapes greatly comfortable – although of course the shape itself prevents side-sleeping on them, for example. Once the fit equation gets solved (see above), I personally find F7200 near-perfectly comfortable.
Isolation
Deeper insertion helps a ton improving on isolation, which is in other cases a partial Achille's heel of all bullet shaped drivers. Both Spinfit CP-100+ and Comply TSX-500 deliver very good isolation, with the latter being a tad better as it normally is the case with foams.
Cable
Being F7200 the flagship model in the F line, it's quite normal to expect final to bundle it with a high-end cable and in facts that's the case. The Junkosha-manufactured high-purity OFC silver plated cable has the same features as the one bundled with E5000, B3, B1 and A8000 and it's by all means a quality cable both in terms of build and sonic pairing.
I would love it even more if it were a further bit more flexible. And twice more if it came with modular terminations – especially in light of the bottomline product cost.
One oddity to note about F7200 is that MMCX connectors on the housings are positioned on their bullet barrels' back surfaces, instead of on their sides like it happens e.g. on E4000 or E5000. Which means that the cable needs to have angle-shaped male MMCX connectors to properly pair with F7200. Like this: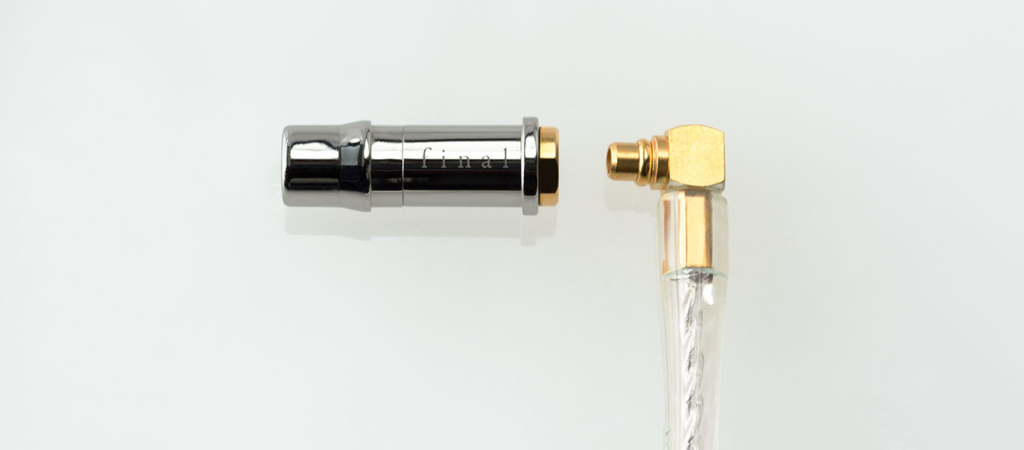 Of course Final Audio does sell spare cables – maybe one wants a balanced-terminated one? – fitted with those very uncommon connectors. Let's just say I won't spoiler their prices for you… 🙂
How about rolling a pre-owned different MMCX cable onto F7200 instead?
Well… I found these 90° M-F MMCX passthrough plugs by CEMA to work for the job. A tad expensive for what they are, but still a good value especially if one wants to fit a pre-owned expensive cable.
Specifications (declared)
| | |
| --- | --- |
| Housing | Stainless steel mirror finish |
| Driver(s) | 1 Balanced Armature driver |
| Connector | MMCX |
| Cable | Junkosha-made high purity OFC silver plated cable with 3.5 termination |
| Sensitivity | 106 dB |
| Impedance | 42 Ω |
| Frequency Range | n/a |
| Packaging and accessories | High quality silicon carry case, E-series black eartips (full series of 5 sizes), Comply T-500 eartips, safe-fit rings, removable silicone earhooks |
| MSRP at this post time | ¥ 50730,00 (€ 360,00 nowadays) |
Comparisons
Final Heaven VI (was $499, now discountinued)
Both Heaven VI and F7200 offer a natural timbre and neutral-ish presentation, with F7200 being comparative clearer, Heaven VI comparatively warmer. Heaven VI have perceivably more solid note weight in the midbass, and smoother trebles up above. Both offer limited rumble, and for both shelfing sub-bass up with an EQ does not help significantly. Heaven VI mids – delicious in absolute terms – are less forward and a bit dryer compared to F7200's. Vocals are very organic on Heaven VI, stunningly realistic on F7200. Overall, Heaven VI are probably more similar to all-rounders than F7200.
Heaven VI have a non-replaceable single-ended cable. They are easier to drive compared to F7200, and are much less capricious then F7200 when it comes to eartips, stock Final A-series tips being perfect for my tastes.
Sphere are unjustly unfamous 1-BA IEMs shining both on the technological (driver quality and extension) and tuning standpoints, an even more so if we consider their relatively modest asking price. Very similar to F7200 in terms of technicalities, Sphere's presentation is quite different instead: they are tuned to come across warm-balanced instead of clear-neutral, and they concentrate on delivering stunning bass, mids and highmids alongside with much more combed, smoothed trebles compared to F7200's, which are airier and sparklier up above, and less bodied down low.
Form factor is also completely different: Sphere's housings are in the universal shape ballpark, no deep insertion needed/possible. Correct driveability is also much harder on Sphere's side, featuring ultralow impedance.
Final B3 (€ 499 MSRP)
B3 are based on a 2-BA architecture in lieu of the 1-BA inside F7200, and feature universal-shaped instead of bullet-shaped housings. The dual driver setup grants B3 the full spectral extention that's partially missing on F7200: sub-bass is more present, midbass is sensibly (even) fuller and highmids and low trebles are more articulated, offering a superior grade of microdynamics and finer detail extraction capability compared to F7200.
Vocals, and I would say guitars too are still better on F7200 though, where a sort of magic perfection spot is hit. B3's mids are a bit more foward compared to F7200. Neither model knows what "sibilance" is about. F7200 might in some cases be perceived as hotter in the trebles. Layering and separation are very similar, with a small edge in favour of B3 possibly thanks again to the dual driver setup.
B3 are tougher to drive compared to F7200, but much less demanding in terms of tips (stock E-type are OK).
Conclusions
F7200 are incredibly good at two things. One is obvious like the sun in the sky: vocals. Couldn't find an equivalently realistic rendering of human singing voices yet. Such proficiency of course invites the user to apply F7200 to acoustic and vocal music, like songwriters, opera etc.
Then there's the other F7200 outstanding aspect: separation and layering. These babies are incredibly good at telling the grains from the bran, the vocals from the instruments, and not only on "unplugged", acoustic scenarios, but on hard rock, grunge, punk too.
Season these ingredients with excellent comfort and the dish easily becomes a signature one in your cuisine 😉
The F7200 sample I'm talking about is my own property.
This article was originally published on www.audioreviews.org, here.